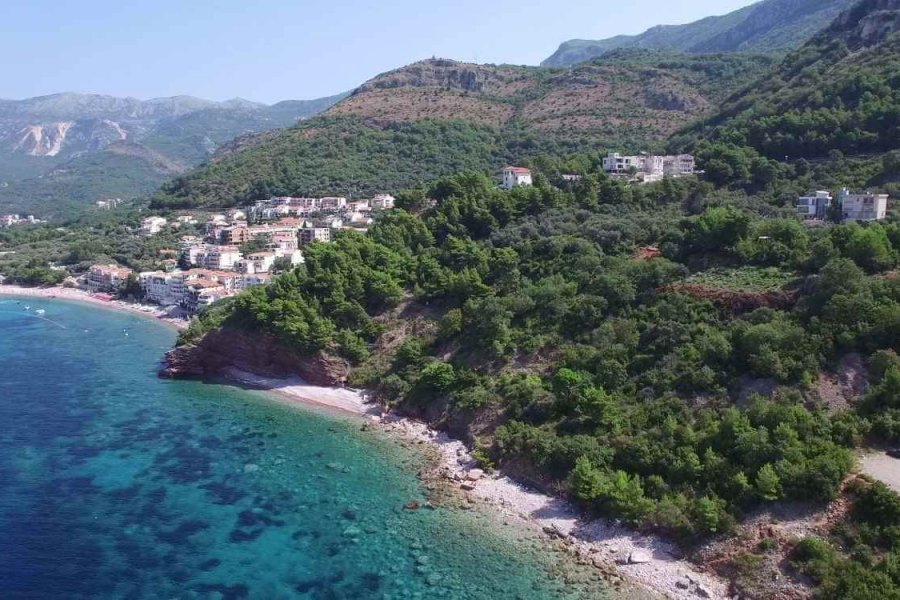 Budva, Crvena Glavica – Land for villa complex project
his land is definitely one of the best on the Budva Riviera, and it can be said in the entire Montenegro coastline. According to the planning permission, maximum of 14 villas can be built. There is a possibility of merging plots, that is, reducing the number of buildings and increasing the area of ​​individual areas of villas.
General Data:
Area of ​​cadastral parcels: 13,249 sqm
Area of ​​urban plots: 12,3174 sqm
Gross development area (GDA): 6,158 sqm
GDA with underground floors: 8,621 sqm
The footprint of buildings: 2,463 sqm
Floors: GF + 2
Occupancy index: 0,2
Development index: 0,5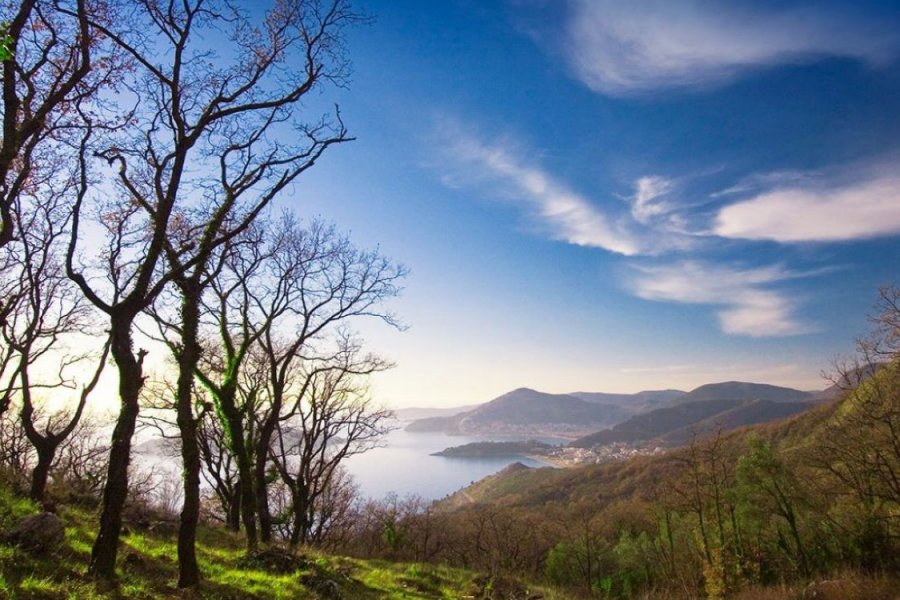 Budva, Kuljace – Residential/touristic project up in hills
Urban parameters for the plot:
Plot area: 14,551m²
Gross Development Area: 6,761m²
Floors: GF+1
Green area: 11,846m²
This is probably the best coastal real estates listing in Montenegro in the category «Remote areas development plots». Close to most exclusive areas of the Budva coast: Milocer, Przno, Sveti Stefan, Rezevici, located within 10 minutes drive reach.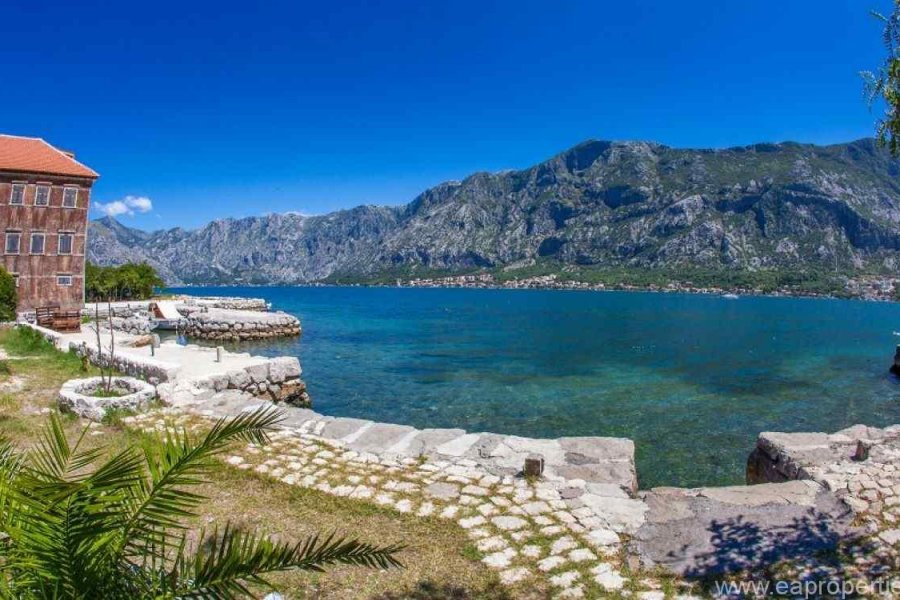 Villa Project in Prcanj
This is a unique land for the project, located just 150 m away from the sea with magnificent views on the bay.
The focal point of an offer is large and beautiful common areas in a total of 16,000 sqm which can be used to add the extra feature and the main selling point of the future development.
Gross Development Area (GDA): 2.612 m² (including existing building within the plot)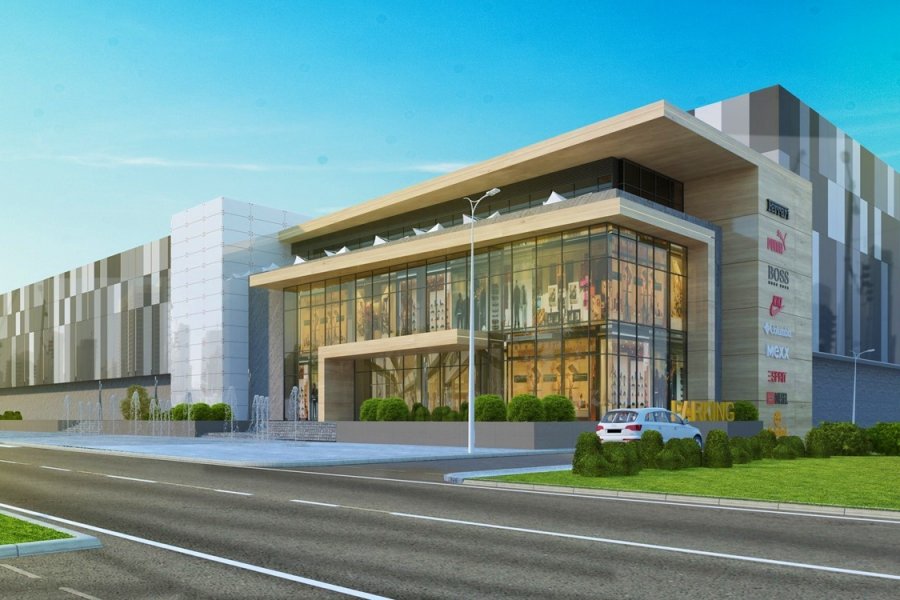 Commercial plot in Radanovici
This attractive plot lays at the crossroads of the fast-growing touristic areas of Montenegro.
Plot area: 9.859 sqm
Gross building area: 9.859 sqm
This area is already known for its great commercial potential and this is why many commercial premises are developed in this area, such as VOLI shop (largest country grocery store), HDL Mall (Grocery store, clothing stores, pharmacy, furniture etc), warehouse, Opel and Volvo dealerships, Wedding hall, International School (Cambridge) etc.
At the moment two new facilities are being developed: the sports centre and high-end multi-brand mall.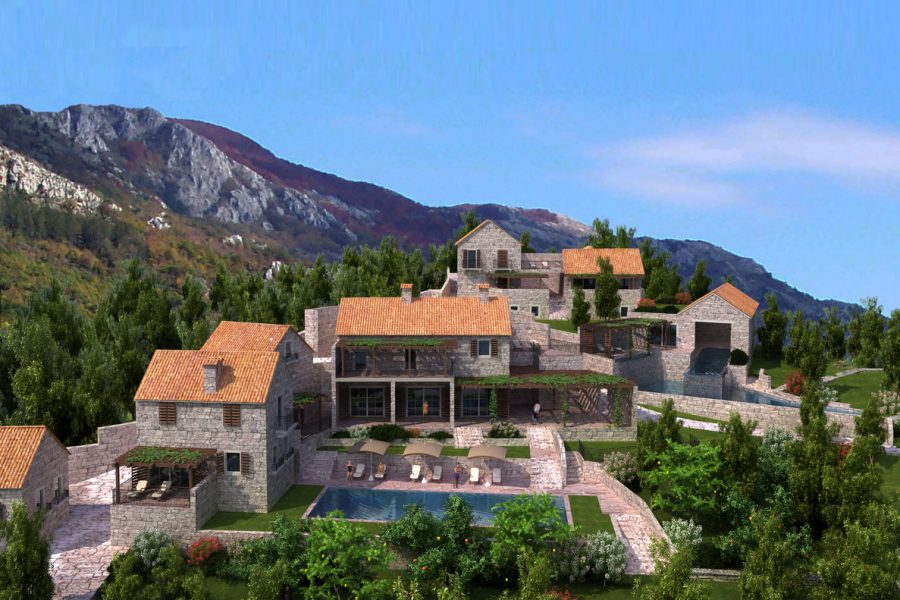 Boutique hotel in Lustica
Existing Concept Design:
The development parcel incorporates two ruin complexes on the site. New buildings are designed in a sympathetic traditional architectural style that complements the existing settlement. This combination of old and new offers a rich architectural experience to visitors.
Hotel – 19 key split between rooms, suites, and villas
Hotel Manager's Flat
Commercial Facilities: Spa, Restaurant & Bar, wine cellar, three pools
In addition to the rich cultural heritage of Zabrdje, in short distance, you will find more authentic villages such as Klinci and Rose, as well as traditional restaurants and famous beach lounges. Lustica peninsula is slowly but surely becoming the most desirable luxury destination in Montenegro. This property is perfectly suitable for a high-category authentic boutique hotel.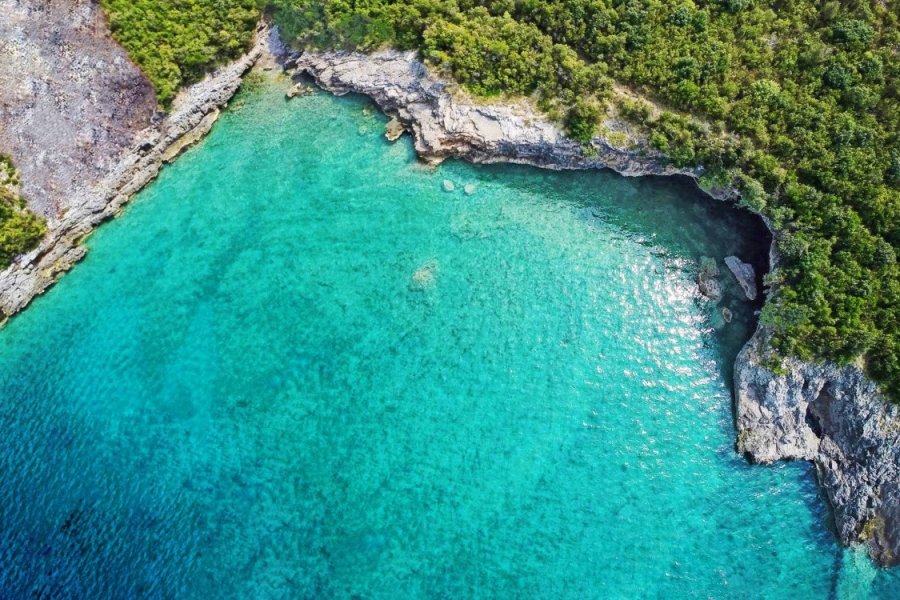 Seafront land for villa project – Bigovo, Kotor
This urbanized first sea line plot in Bigovo, of 7,024 m² / 75,606 ft² is located on the first line, on one of the most authetnic villages on the open sea on the Montenegrin coast. For two parcels the concept design is completed and all expenses for construction permit paid. Two parcels are entered into the plot, and the urban-technical conditions for the construction of two villas are obtained.
Parcel # 1
Total area: 1,021 m² / 10,990 ft²
Permitted construction – one villa
Built up area: 424.88m² / 4,573ft²
Parcel # 2
Total area 1,280m² / 13,778ft²
Permitted construction – one villa
Built up area: 598,28m² / 6,440ft²
Parcel # 3
Total area 1,300m² /13,993ft²
Permitted construction – one villa
Built up area: 600 m² / 6,458ft²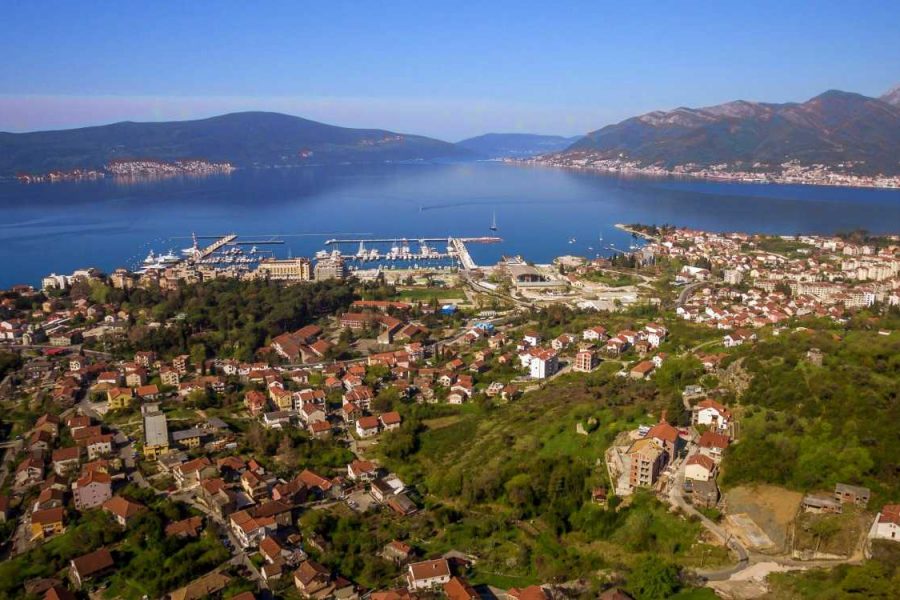 Residential project – Tivat
Excellent development land in Tivat near Porto Montenegro Great investment opportunity in Tivat – Hillside development plot for real estate project overlooking Porto Montenegro and the Tivat bay. Located only 300m from the sea and Porto Montenegro, this is a unique land parcel for development of luxury real estate project in the bay. Tivat is becoming a hotspot for investment in Montenegrin real estate, and urbanized land parcels such as this one are uneasy to find on the market.
Plot area: 9,500m²/ 102,257ft²
Gross Development Area: 10,500m² / 113.021ft²
Floors: Basement+GF+3+Attic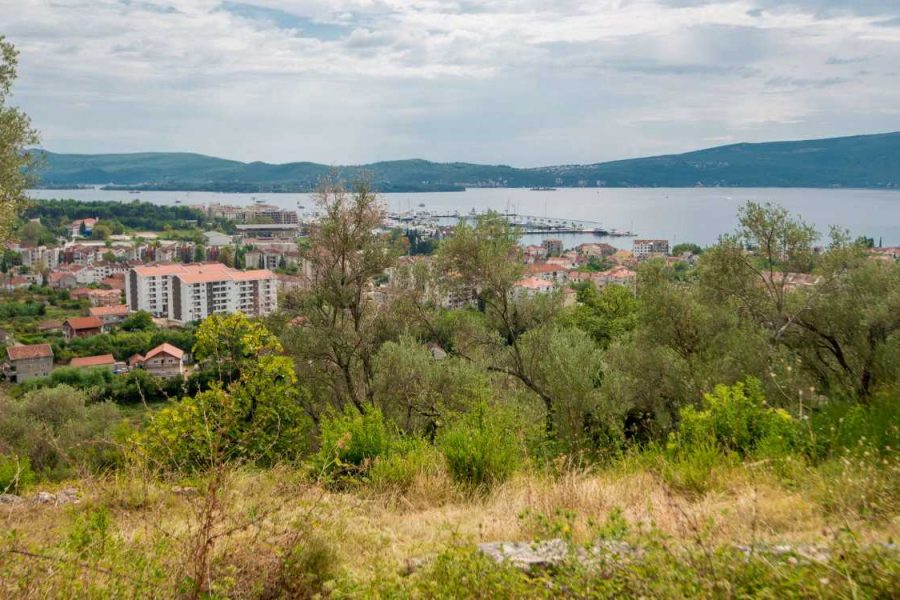 Villa project – Tivat
An exquisite development plot for a villa project in the area above Tivat, surrounded by olive groves. The concept is to develop a gated community consisting of four villas in the hills above Porto Montenegro. You will rarely find exclusive villa neighbourhood in Tivat in such a peaceful setting with an astonishing view over the Bay of Tivat and Porto Montenegro. Location, the views and the fact that, despite the high demand, there is a lack of villa development offers in the area, makes this investment proposal even more appealing.
Plot area: 4,067 sqm / 43,777 sqft (4 urban parcels)
Built-up area: 2,000 sqm / 21,528 sqft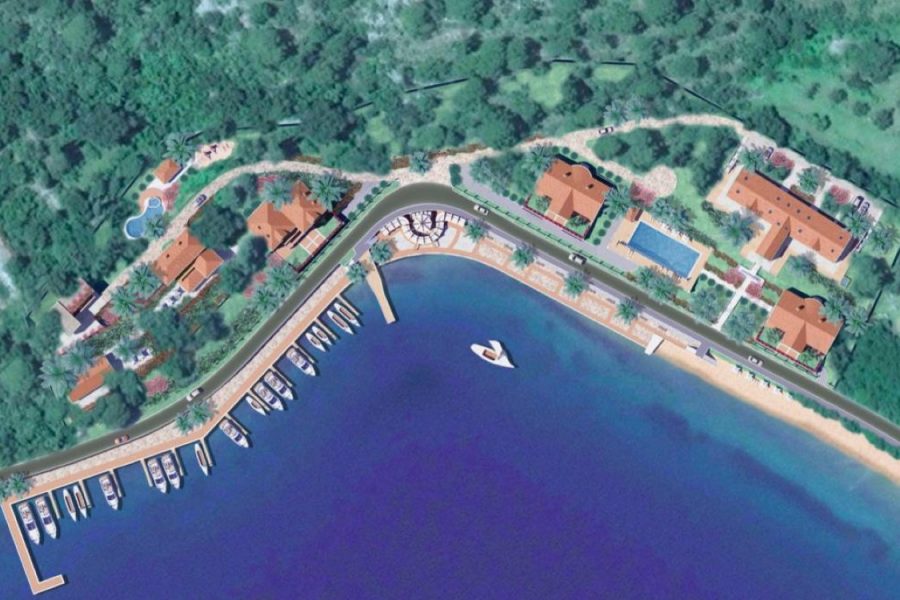 Small Hotel on the Seafront – Prcanj
Exclusive hotel development plot on the seafront in Kotor bay.
This is quite a unique offer in the bay – development plot on the first sea line in the authentic village of Prcanj. Land complex with 275m of the sea line in Prcanj, Kotor with approved planning for luxurious touristic development of 7,500 sqm in total.
Possibility to build a small marina and the beach.
Total area: 20,661 sqm / 222,393 sq ft
Gross Development Area: 7,450 sqm / 80,190 sq ft